The DVD/CD/USB Pendrive Encryption Software
Home > Products > Home Edition News > Master Voyager 2.40. Now with AutoUpdate feature!
Master Voyager 2.40. Now with AutoUpdate feature!
February 13, 2010
As it is known, every purchased license of Master Voyager includes all future versions (within current major version) for free of charge. And we produce new versions very often (usually we do it every 2-3 weeks). Every minor update fixes known bugs (reported by our customers) and/or introduces new features.
But it was no very comfortable for our users to upgrade to newer versions. It was needed to uninstall previous version, then download new one and install it again.
Now, since this 2.40 version the process is pretty simple!
Just click the "Upgrade to xx.xx" button in the "New version detected window" and Master Voyager will download new version and install it fully automatically!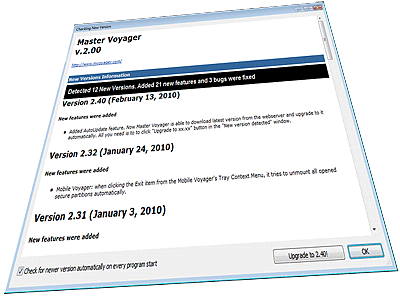 Send encrypted CD via mail?
Use encrypted USB stick for Work/Home
How to transfer documents safely between home and work on encrypted USB Flash Drive?
Read how to use usb encryption to create password protected USB Flash Drive with integrated autoplay module
Master Voyager Home Edition 3.35
November 13, 2016
Improved compatibility with Windows 10.

Master Voyager Home Edition 3.32
January 11, 2015
Fixed incompatibility problem of the licensing system with the 2016 year.

Master Voyager Home Edition 3.31
November 10, 2014
Several minor bugs have been fixed.